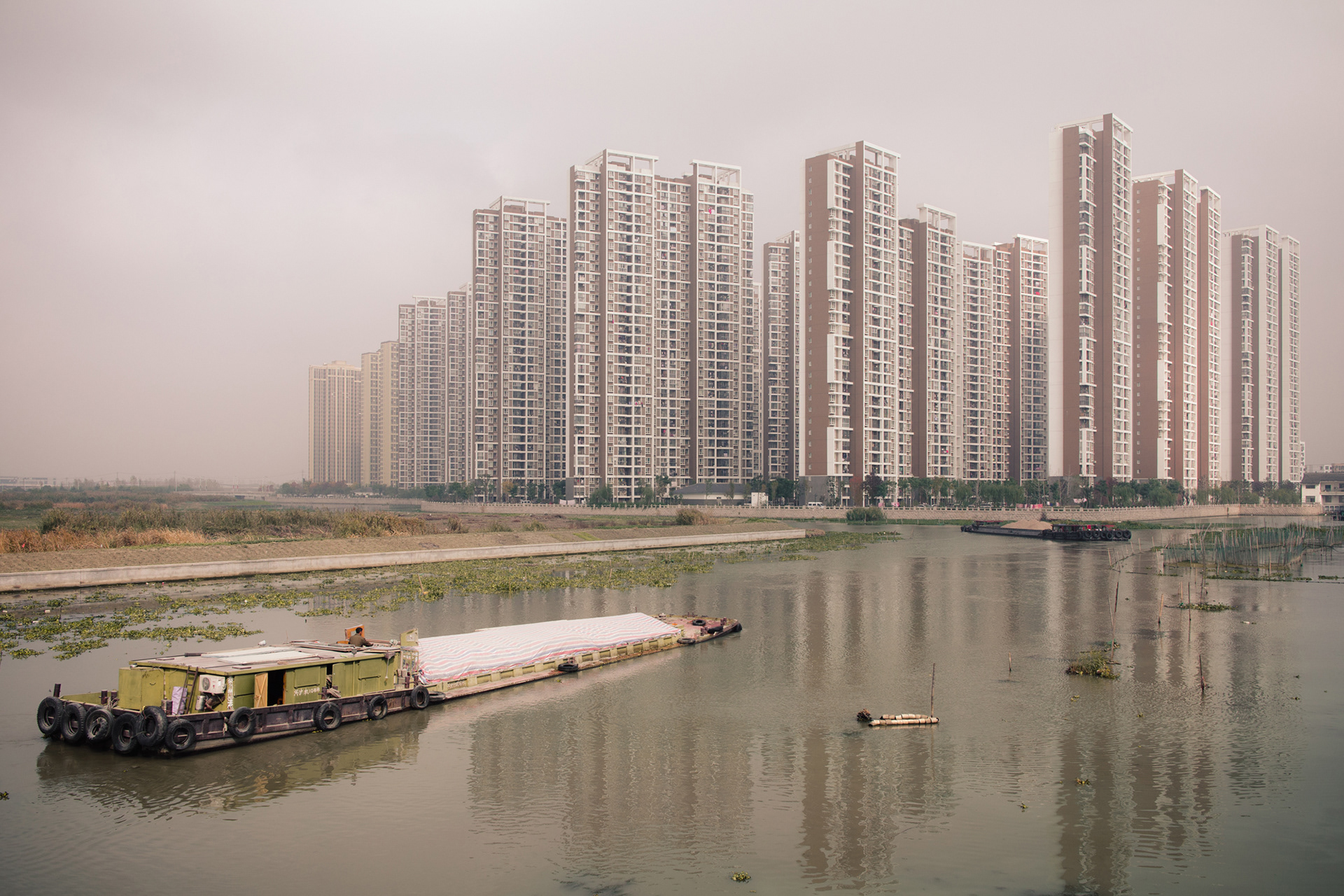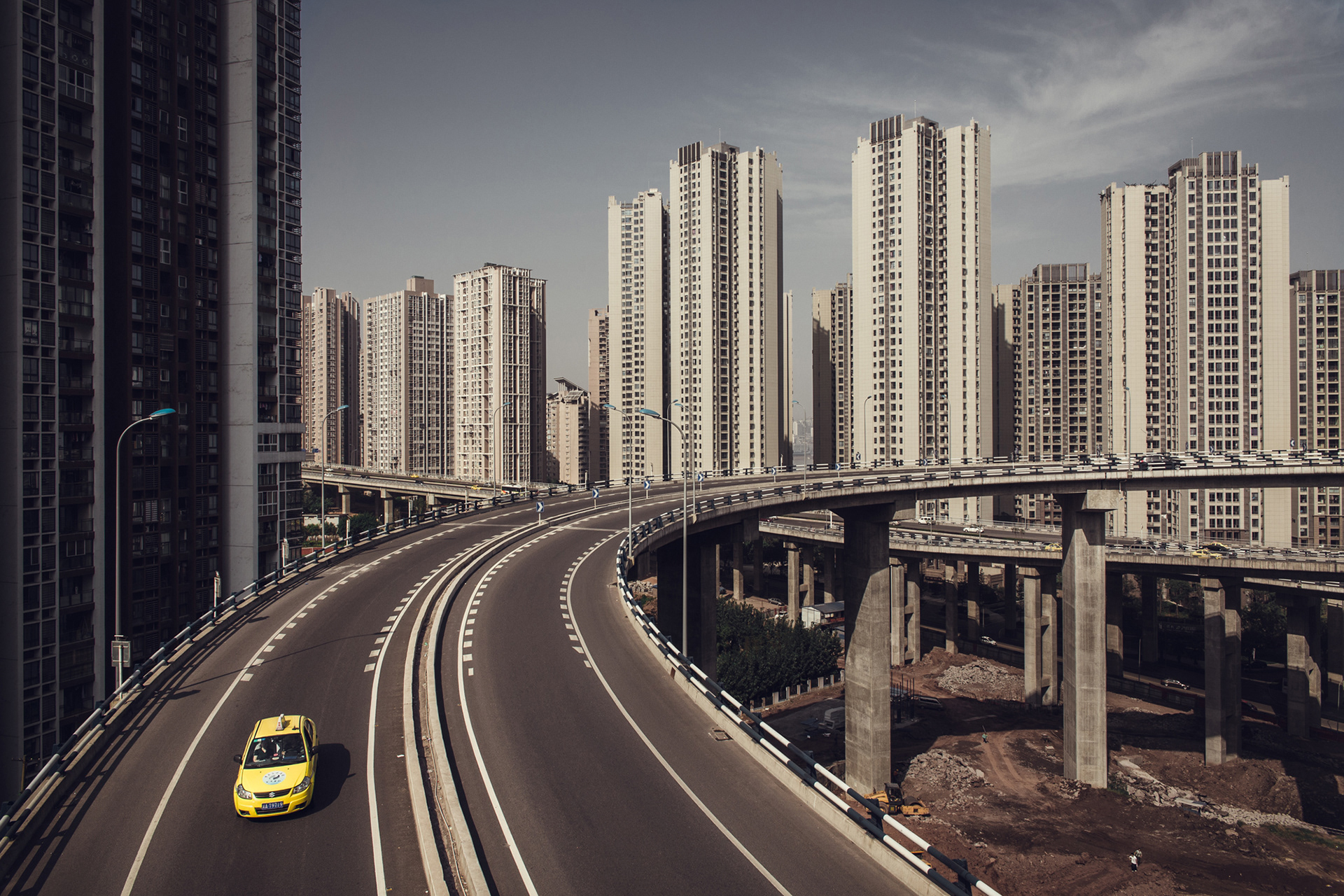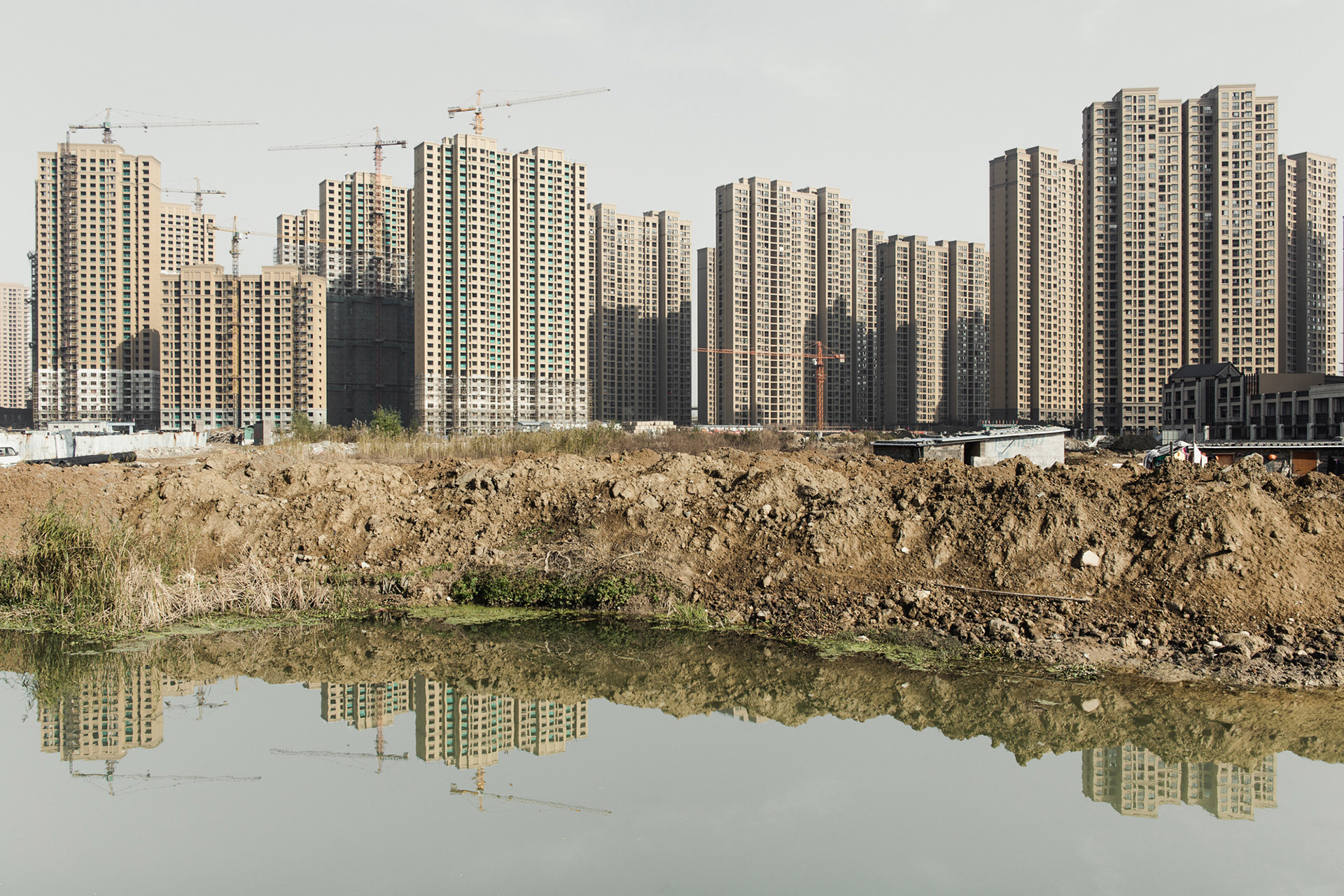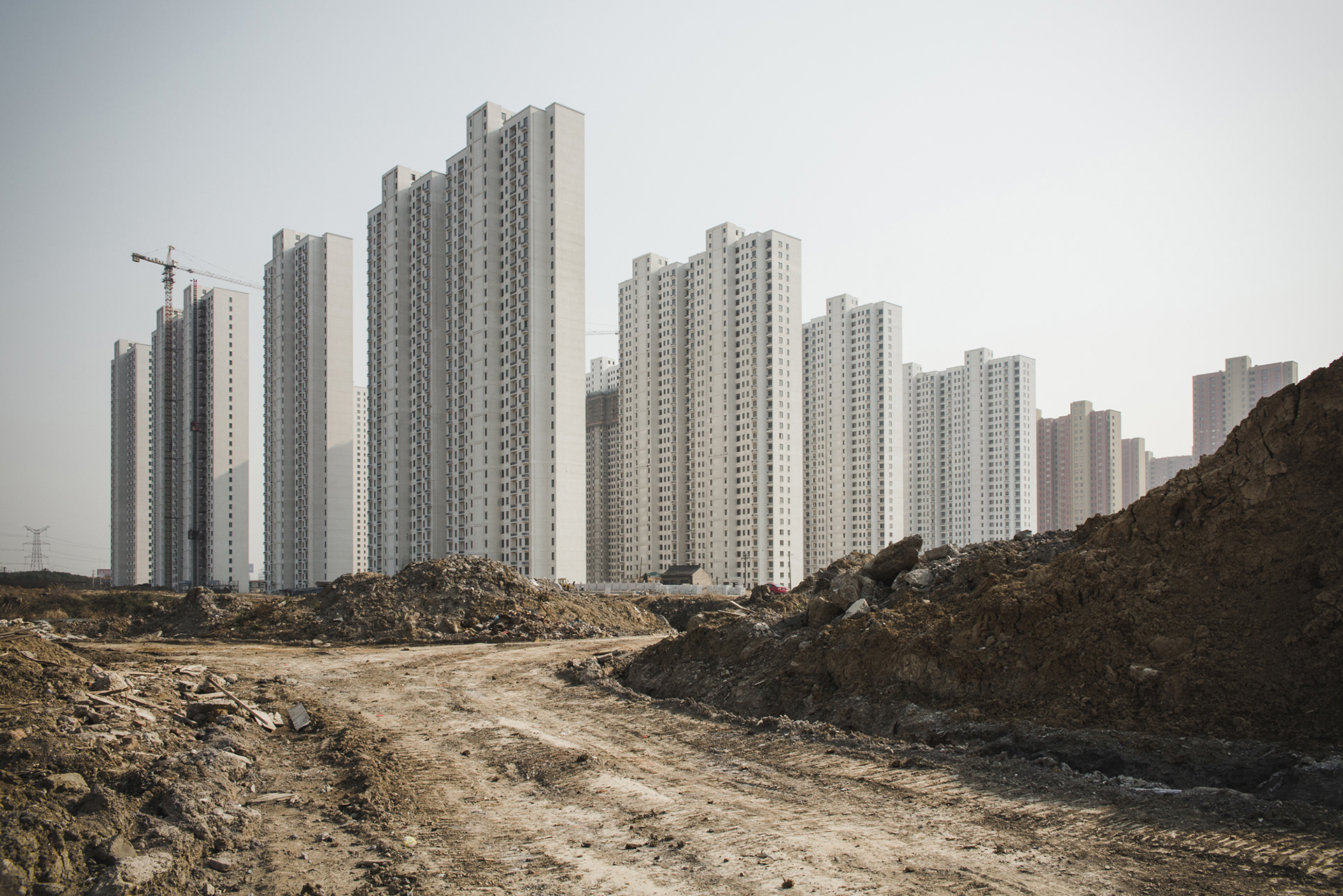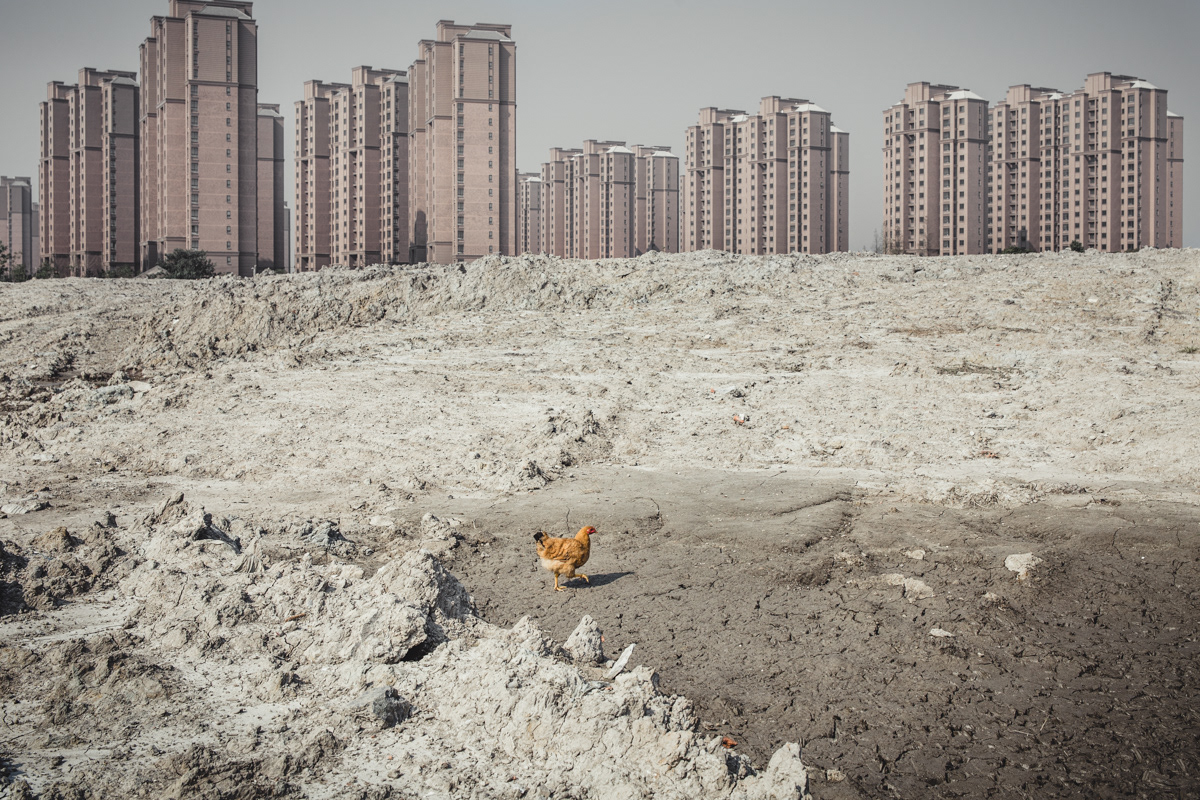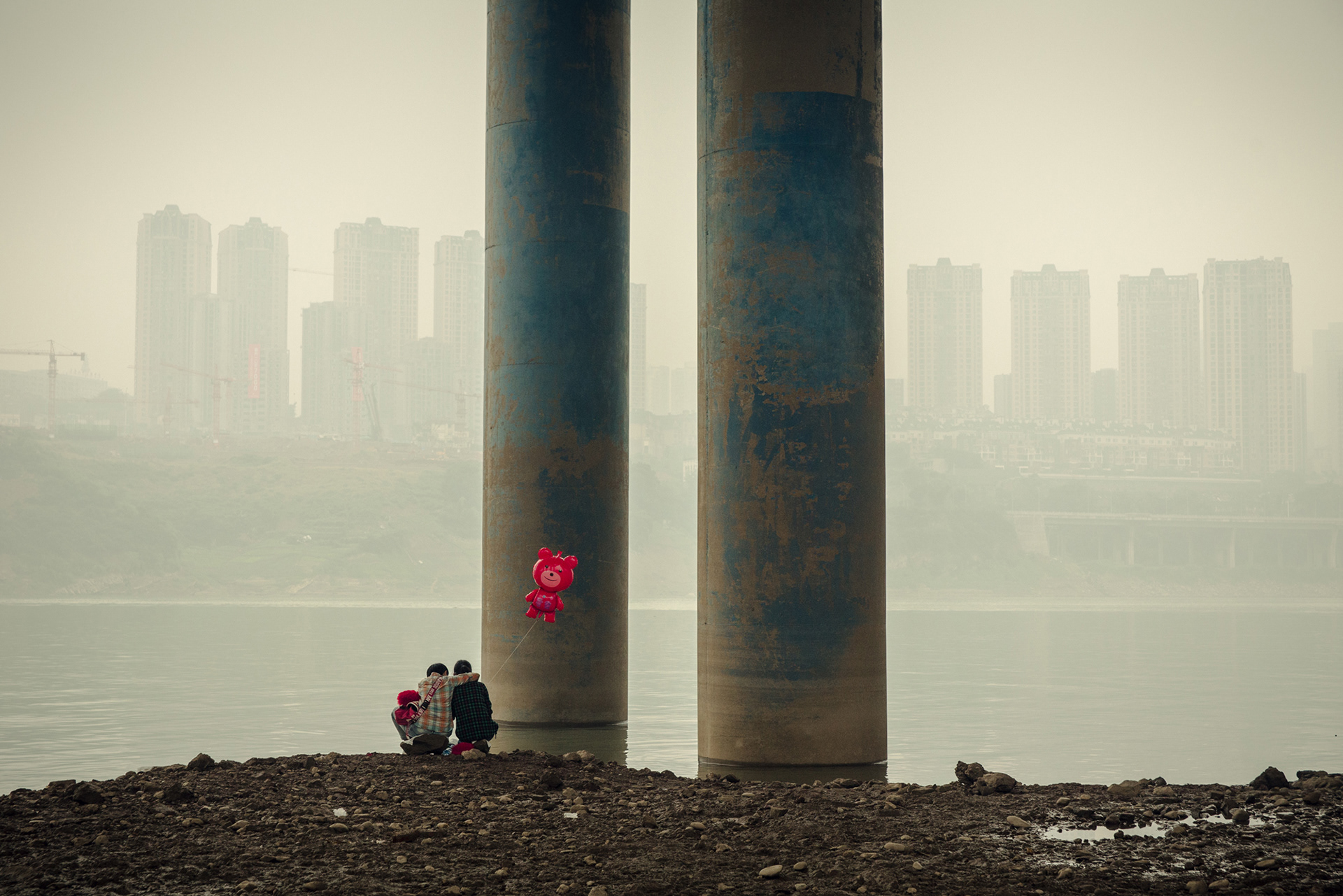 Urbanization in China has grown dramatically from the 1990s and exceeded the 50% threshold for the first time in 2011. By 2050 the percentage of people living in urban areas will reach 77%. As a result, the continued development of real estate infrastructure throughout the country has become integral to driving the country's economic growth.
 Aurélien Maréchal spotted this phenomenon first on a train ride from Shanghai to Nanjing in 2012. This high-speed rail line was built in 2010 and serves the major cities of Jiangsu province: Kunshan, Suzhou, Wuxi, Changzhou, and Zhenjiang. He was struck not only by the abundance of the new residential areas under construction, but also by their extent and size. But what impressed him most was the aesthetic similarity of this architecture: a structural redundancy of concrete revealing a monolithic vision. 
 These new residential buildings often arise in the heart of cities that are under renovation: typically, they demolish and replace old lane houses. But they also appear around the periphery of the megalopolises, creating new urban spaces by occupying the territory of the neighboring countryside. It is only in this particular setting that the sheer magnitude of the structures is revealed. Indeed, they are erected in an almost pristine space, enacting a metamorphosis of the landscape that transforms from rural to urban - without any transitional phase.
 Aware of the fact that this phenomenon is ubiquitous in China, he embarks on a personal exploration that would lead him across the country, to megacities such as Chongqing and Wuhan (Hubei), and to less known towns such as Yinchuan (Ningxia), Shijiazhuang (Hebei), Zhengzhou (Henan), and Shenyang (Liaoning).
 Aurélien Maréchal illustrates this stage of transformation with an objective photographic approach. The choice of a specific view angle and a reinforced minimalism indicates his point of view and aims to cause a surrealist effect. A particular focus is given to the foreground, which creates an individual atmosphere for each photograph. At times, these large concrete structures seem to arise from the heart of the earth, like a sudden eruption. The result leads to a lunar landscape where all these buildings, in a global vision, seem to respond to a single primary need: to house hundreds of individuals.
L'urbanisation en Chine connait un essor considérable depuis les années 1990. Elle a dépassé le seuil des 50% pour la première fois en 2011 et devrait atteindre les 77% en 2050. De ce fait le développement de l'infrastructure immobilière est un élément intégrant de la croissance économique du pays.
 Aurélien Maréchal découvre ce phénomène en 2012, à l'occasion d'un voyage en train allant de Shanghai à Nanjing. Cette nouvelle ligne de train rapide, construite en 2010, dessert les grandes villes de la province du Jiangsu : Kunshan, Suzhou, Wuxi, Changzhou, Zhenjiang. Il est alors saisi par l'accumulation de nouvelles zones résidentielles en cours de construction, de par leur abondance et de par la dimension des bâtisses. Mais ce qui interpelle au-delà de ce foisonnement, c'est leur similarité esthétique. Une redondance de structures de béton qui révèle un visuel urbain monolithique.
 Ces nouveaux quartiers résidentiels prennent naissance au cœur des grandes villes en cours de rénovation, en lieu et place d'anciennes générations d'habitations, mais s'étendent aussi autour des périphéries, grappillant le territoire des campagnes avoisinantes. C'est dans ce second contexte que le contraste est le plus frappant. Ils s'érigent avec démesure dans un espace quasi vierge de toute urbanisation, provoquant une métamorphose soudaine du paysage qui passe de la ruralité à un urbanisme précoce, sans aucune phase intermédiaire.
 Conscient que ce phénomène n'est pas isolé, il entreprend fin 2013, une exploration qui s'étendra sur l'ensemble du pays, dans des mégapoles emblématiques de la croissance immobilière telles que Chongqing et Wuhan (Hubei), et des villes plus confidentielles comme Yinchuan (Ningxia), Shijiazhuang (Hebei), Zhengzhou (Henan) et Shenyang (Liaoning).
 Cette phase de mutation, Aurélien Maréchal l'illustre en misant sur une photographie objective. C'est avec le choix de la prise de vue et un minimalisme appuyé qu'il propose un regard plus personnel et souhaite provoquer un effet surréaliste. Une importance toute particulière est portée au premier plan qui conditionne l'atmosphère de chacune de ses photographies. Ces grandes structures de béton semblent parfois surgir du cœur de la terre, comme une irruption soudaine. Il en résulte un paysage lunaire où tous ces bâtiments, dans une vision globale, semblent répondre à un unique besoin primaire : loger des centaines d'individus.
中国的城市化进程自二十世纪90年代起遭遇了前所未有的大飞跃。2011年,中国的城市化覆盖率已达50%,并 预计于2050年达到77%。因而,基础设施建设及房地产业的发展已经成为中国经济高速发展不可或缺的重要组 成部分。
Aurélien Maréchal 在2012年一次由上海到南京的火车旅途中意外发觉了这一现象。这条于2010年新建的高铁线 路,途经江苏省的几大城市:昆山,苏州,无锡,常州,镇江。他在旅途中被这些不断出现且尚在建设中的新 兴住宅区 群所吸引,不仅是出于这些楼群的繁多,更重要的是它们宏大的规模。然而在此宏大景观之上,更震撼人心的 是这些楼群在建筑美学特征上的惊人相似。钢筋混凝土建筑群的繁冗带来了城市化在视觉上的高度一致。
这些兴建中的新兴住宅区于大城市的中心地带拔地而起,取而代之以往由老居民居住的旧城区,并延伸扩展至 整个城市的边缘和郊区, 甚至逐渐吞噬周边的乡村地区。正是在这第二层背景下,强烈的对比更加令人惊叹。 拔地而起的楼群建筑肆无忌惮地占领着与城市化全然无关的自然景观,并激发了陆地景观在没有任何过渡地带 的情形下,由乡村到城市的突变。
深知这样的现象并非孤立的特例,Maréchal 于2013年底,开始了涉足整个中国的摄影探索之旅,尤其是在一些 房地产业高速发展和城市化进程独具代表性的特大城市,如重庆,武汉(湖北省);以及一些城市化进程更为 隐蔽的城市,如银川(宁夏省),郑州(河南省)和沈阳(辽宁省)。
在这样一个剧变时期,Aurélien Maréchal 将客观的视角运用于其摄影叙事中。他通过镜头捕捉的选择和极简主 义的影像风格,来表达自己更为个人化的艺术视角并试图激发出一种超现实主义的效果呈现。一种独特的重要 性通过影像被集中体现出来,并决定了他每一件摄影作品所呈现的氛围:这些由钢筋混凝土所构建的庞大结构 似乎像是从地心中疯狂生长出来的,如同一场突如其来的爆发。这些建筑楼群所组成的类似月球表面的奇幻地 表景观,从一个广义的视角来说,似乎只是在满足一个人们最基本的生活需求:居住。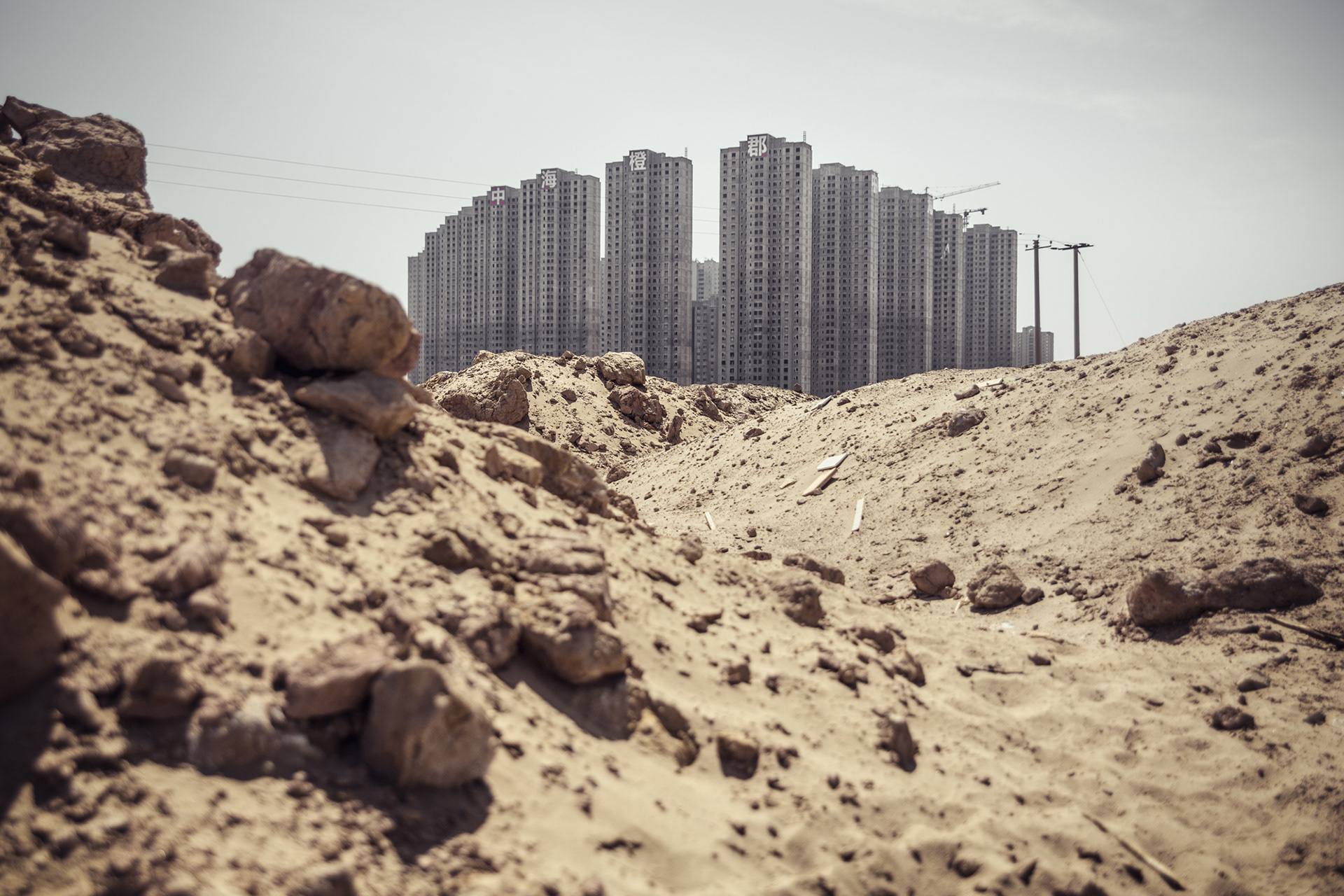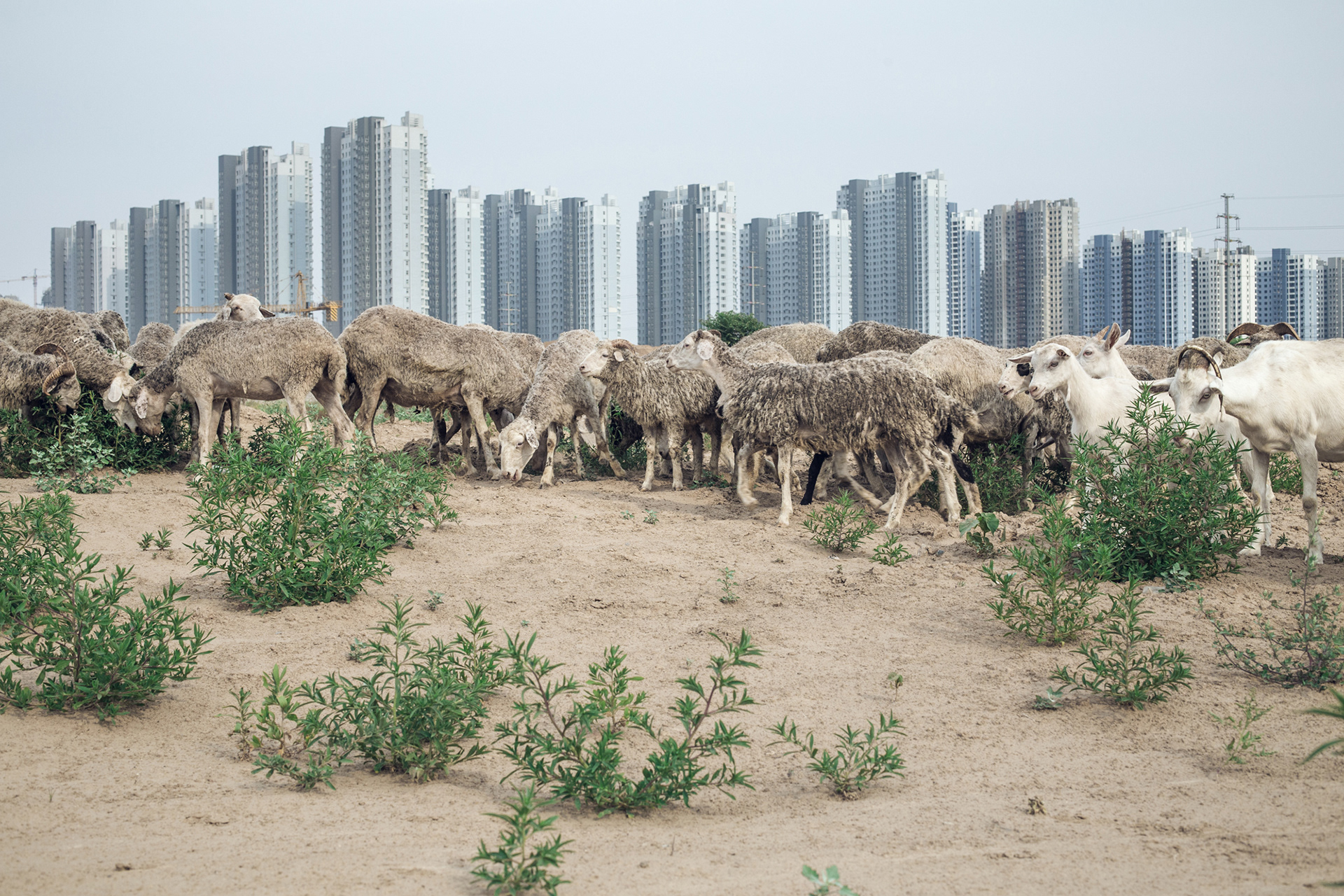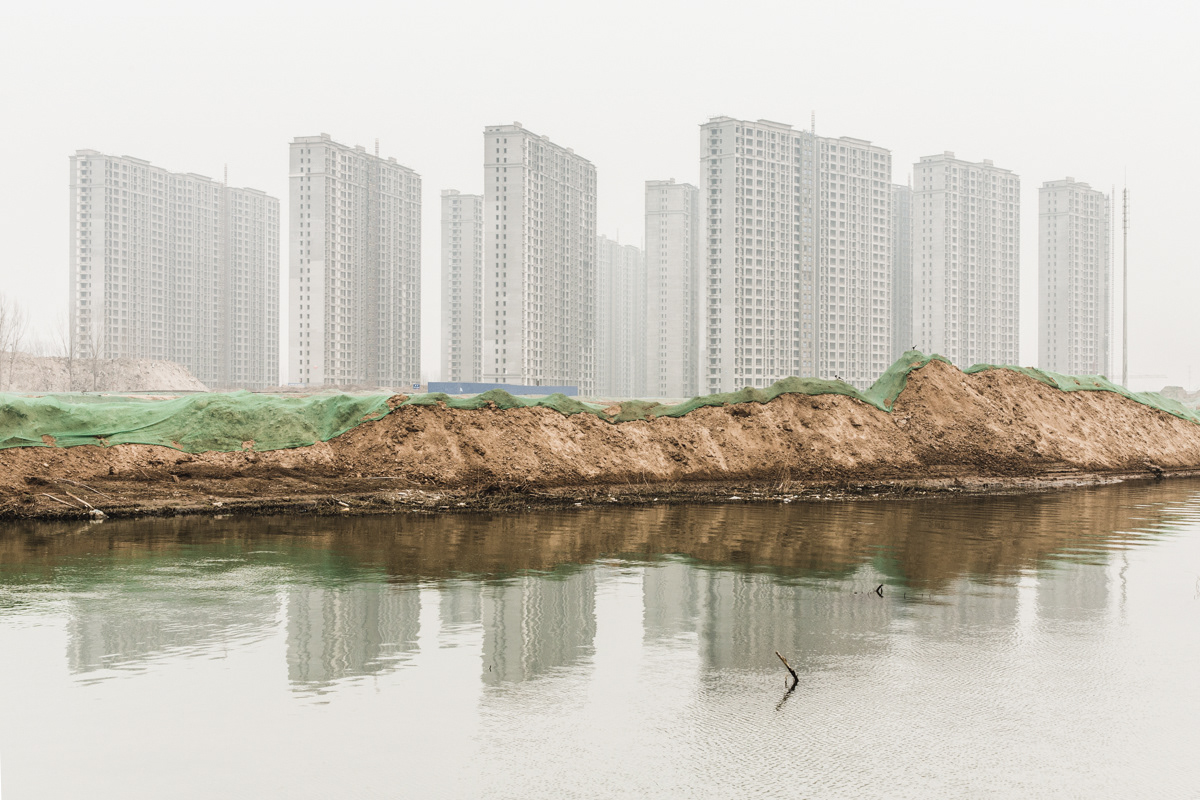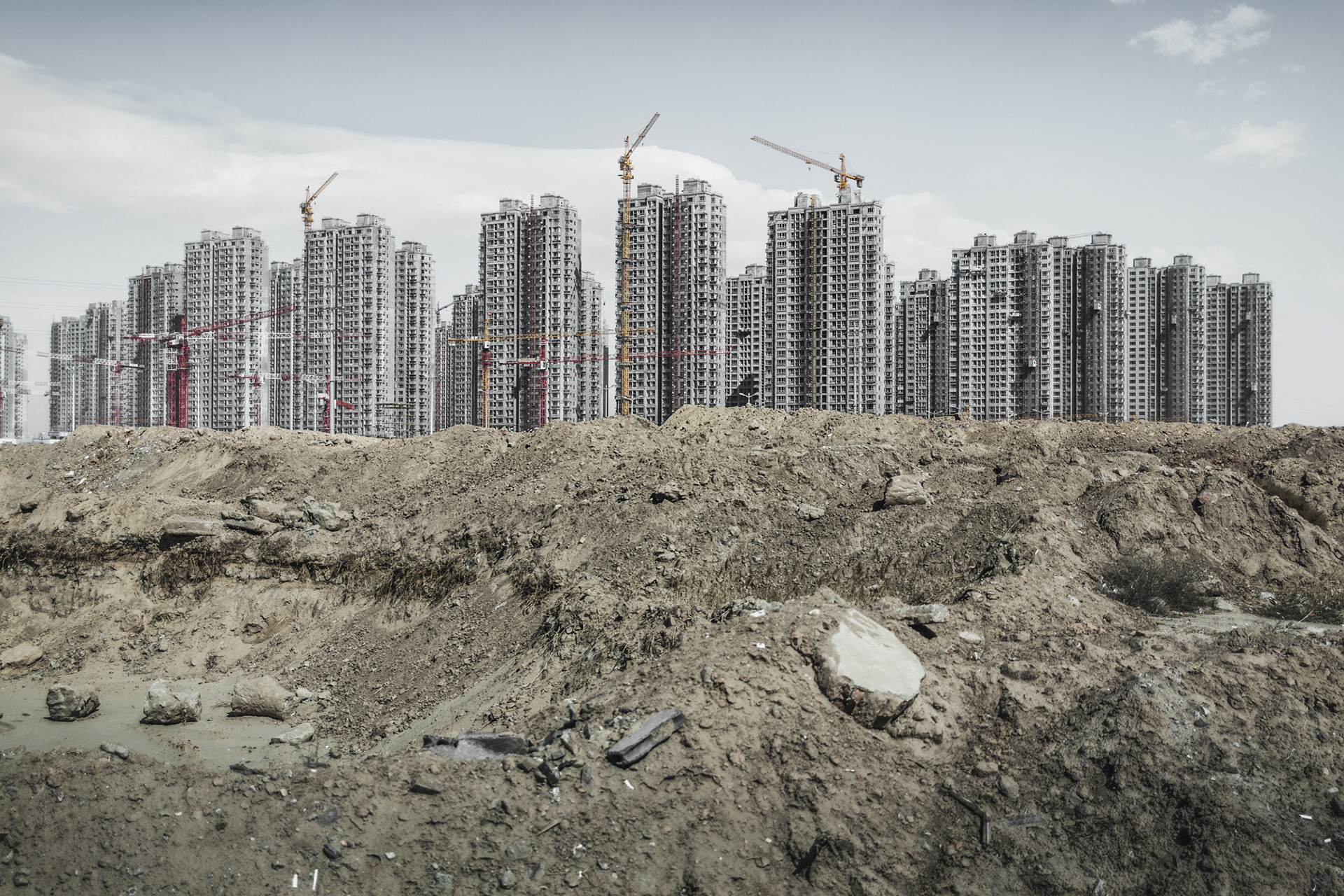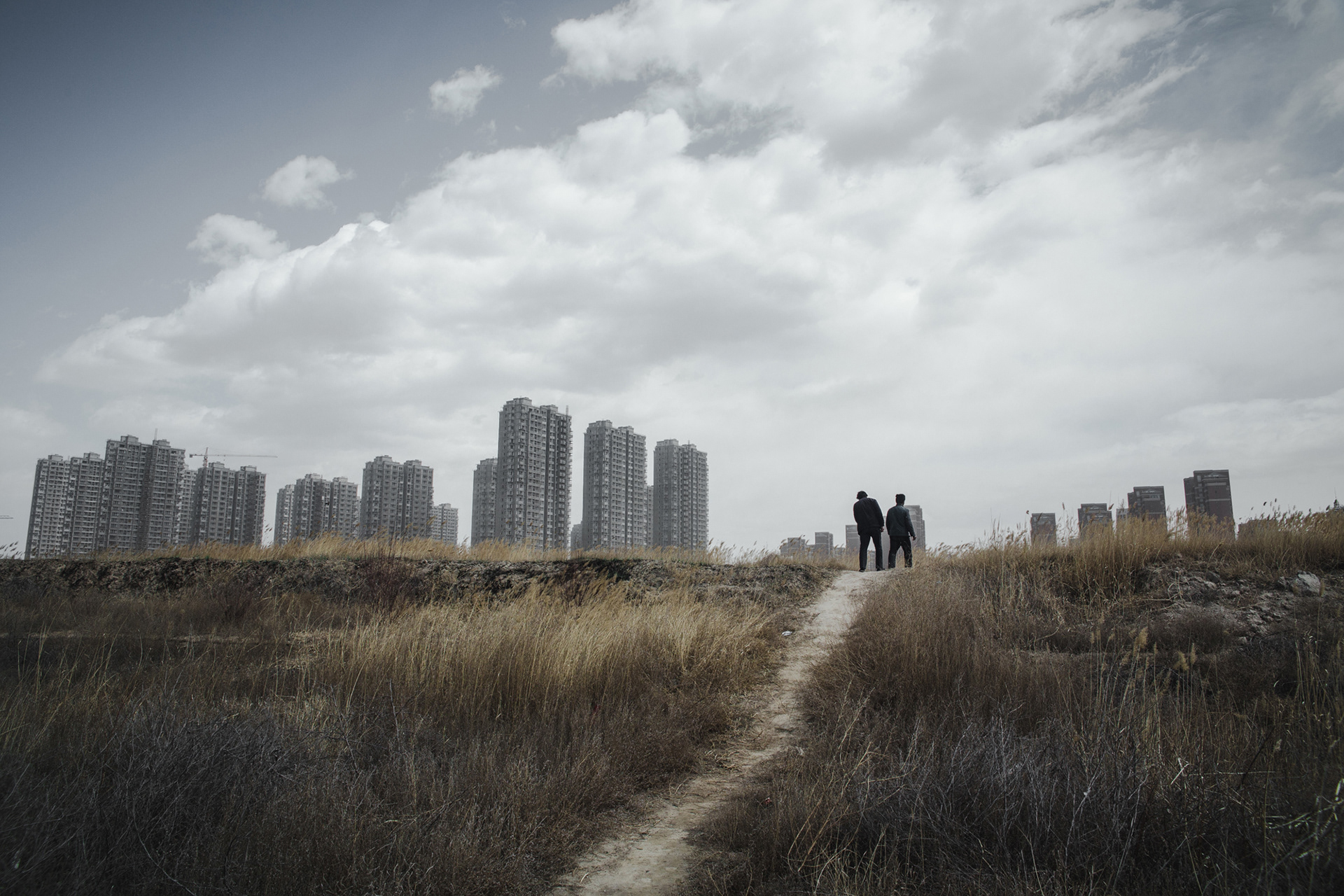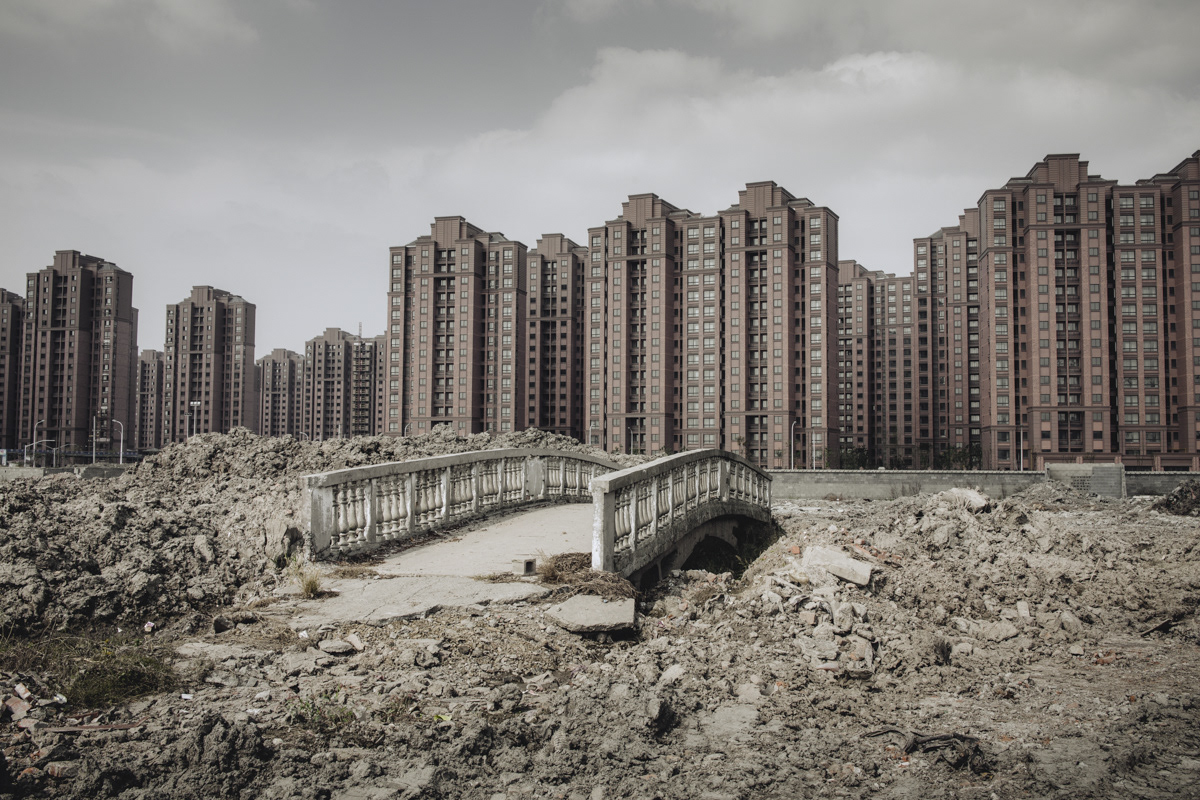 Scenes of Contemporary Dystopia
Imagine yourself for a minute visiting a wildlife park, where animals have been displaced and brought together in one of those new suburban areas, so that tourists can observe them.

If you get lucky, you might see a few specimens in the daylight.
"See to the left? You have their typical twenty-first-century habitat," says your guide into a microphone. "This is where they sleep, guard against the cold and reproduce… It's quiet now, but at night they will return."
People are not animals though, are they? Hopefully you might object to that. People can do much more than catering to their natural needs, and this "much more" is what we call culture. If there is anything uncomfortable about those pictures, if those residential buildings feel dehumanizing to you, that is precisely because they appear to be stripped of every bit of culture. Those buildings look like raw packs of natural needs, blocks of functionality stranded on cultural no-man's lands. They seem to exist only and strictly for people to sleep, guard against the cold and reproduce.

When pushed to the extreme, there is something dreary and inhuman about functionalism, and this quality fantastically comes forth in Block, a series by French photographer Aurélien Maréchal. "I wanted to show scenes of contemporary dystopia that would transcribe what I felt when I was in those places," Aurélien says.

Aurélien Maréchal came to Shanghai in 2012 to pursue his career as a digital sculptor for a car company. As soon as he moved here, like so many foreigners, he was greatly impressed by China and by the contrast with his home country. Since then he has felt the need to keep a record of his surroundings. "My camera became my notebook," he says.

Shanghai's urban transformation was Aurélien's primary focus when he first settled here, but his Block series later took him to faraway places all over China. While planning his trips, he would make use of satellite images to pinpoint remarkable construction sites. This would be a meticulous process. There is tremendous work involved in this series, you can sense that. Aurélien says that he would sometimes walk for hours to find the right spot in order to capture that slightly dreamy, nightmarish atmosphere he was looking for. "I paid a lot of attention to the view angle to give off a surrealistic effect by way of a strong minimalism, a repetitive composition, and sometimes playing with the depth of focus."
Aurélien says that while he was shooting, passers-by often wouldn't understand what he was doing. What was there to photograph? At times, as he tried to explain, people would tell him that those new residential zones were in fact a real improvement compared to previous dwellings. "I admit I was close to neglecting that aspect in my approach," Aurélien says. Then at some point, he happened to show his work to a group of architects who were deeply interested and later even offered him to put up an exhibition, which took place last summer at ORIGINAL IDENTITY GALLERY in Shanghai. Those architects, he recalls, "confessed to me a certain embarrassment about their profession, and that the problem came from the demand, (…) the architect alone doesn't have the power to make any change."
"One could expect those new building projects and such a phase of restructuration to be an opportunity to bring about new propositions for our living conditions," Aurélien goes on. "This could take the form of architectural concepts or designs in relation to the province in which those new buildings are built, taking into account history and the local culture. Instead of that, these residential compounds, whether they are built in Chongqing or in Shanghai, are hard to differentiate."
Aurélien's pictures are food for thought for those who want to reflect on our future. "What is to become of Man in our post-modern societies?", they seem to ask. Aurélien adds that he wanted to "question the idea of personal development in such uniform environments. Do they provide any real possibilities for the individuals to emancipate and distinguish themselves from the mass?" Another way of saying that, despite the reality of the housing market, despite the pressure of urbanisation, despite the undeniable increase in material comfort that those new buildings represent, it is always a good idea to remind ourselves that we are here on this planet to do a whole lot more than sleep, guard against the cold, and reproduce.